Pick up your Meat Share:
Archway Farm: starting Thursday, June 1st, open daily 9a - 7p 
 
---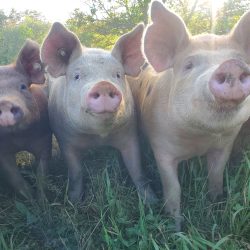 Dear Shareholders:
Over the next couple months I'd like to spend a little time to talk more in depth about the meat that goes into our shares. Starting this month with our pork.
All of the pork included in our shares is born and raised on our farm. We typically have around 12 sows and 2 boars on the farm and have piglets being born year round. It is important to us to control the entire process from both a quality control and animal welfare perspective.
We send all of our hogs out to a USDA inspected facility for slaughter, then bring the majority of the pork back to our farm to cut, package, grind and smoke in our own commercial kitchen. We've built this process out over the last three years and feel having that control gives us more flexibility as well as a more consistent high quality final product.
Mark (for Wyatt, Maggie, Dima, Leo, & Alona)
---
Special Items in This Months Shares
(depending on size and meats you selected)
Whole Chicken: Our own slower growing pastured raised chicken. Roast whole or cut it into pieces for multiple meals.
Pork Chops: our hand cut chops are all a little thicker (1 rib to be exact). Great on the grill with a little salt and pepper
Sweet Italian sausage: We made these links just last week in anticipation of a busy summer grilling season. A classic sausage, made by hand in our own on farm kitchen.
---
Recipe of the Month
Juicy Grilled Whole Chicken, Mediterranean-style
Easy whole grilled chicken, marinated in a garlic and citrus Mediterranean marinate and grilled over indirect heat for the best juicy grilled chicken with perfectly crispy skin. Be sure to watch the video for more tips and for how to carve this whole chicken to serve a crowd!
Marinade
⅓ cup extra virgin olive oil
Juice and zest of 2 lemons
1 tablespoon dry oregano
1 tablespoon fresh thyme
1 teaspoon coriander
1 teaspoon paprika
½ teaspoon cumin
½ teaspoon black pepper
½ teaspoon cayenne pepper more if you like spicy
12 garlic cloves peeled and minced
Directions
Spatchcock (butterfly) the chicken. Place the chicken on a cutting board with its backbone facing you. Using a pair of sturdy kitchen shears, cut out the backbone by cutting along both sides of the spine, and remove it. Push down on the breasts to flatten the chicken. Flip the bird over and remove the wing tips.
Season the chicken. Pat chicken dry and season with salt all over, lift the skin and apply salt underneath.
Mix the marinade. In a small bowl, mix together the marinade ingredients (olive oil, lemon juice, oregano, thyme, spices, and minced garlic cloves).
Apply the marinade to the chicken. Place the chicken in a large dish (with sides so that the marinade does not spill). Apply the majority of the marinade underneath the chicken skins (this will ensure best flavor), and be sure to rub some of the marinade on the back side of the chicken as well. Keep the chicken flat with skin side up. Marinate in the fridge for 2 to 4 hours.
Grill. Preheat an outdoor grill over medium-high (400 degrees F) and make sure to lightly oil the grates. Place the chicken over indirect heat (this means, the burner or burners directly below the chicken should be turned off, while the outer burners surrounding it should remain on. Watch the video to see how Adam does this). Cover and cook for 45 minutes to 1 hour or until the chicken's internal temp reaches 165 degrees F. Check every few minutes, and if the chicken gains some color on one part, rotate as needed.
Rest. Remove the chicken from the heat and set aside to rest for 10 minutes before slicing through to serve.