The cuts that are "high on the hog" are the ones that we sell primarily fresh – fresh meaning not smoked, cured, ground, or otherwise processed. They are:
Boston shoulder: aka butt roast or shoulder roast
Loin: chops, loin roast, tenderloin
Ribs
Most everything else either gets made into bacon (the belly), smoked hams, or ground for sausage.
We try to balance how all the different cuts sell to keep a variety available at our farmstand, but the retail stores we work with, for a number of reasons, tend to sell more of these "high on the hog" cuts – especially the loins.
And so…the bad news we will be running short on pork chops at our farmstand for a while until I can catch up. But the good news is the bacon and sausage forecast remains very favorable!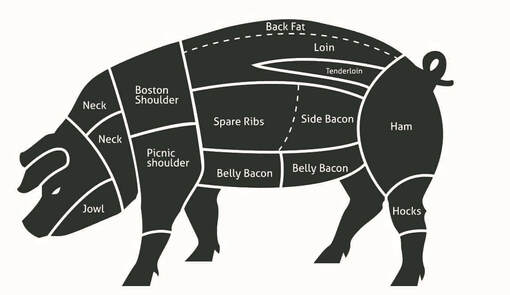 Currently in Stock:
Pork – Archway Farm
Bacon

Ham (Halves, Quarters, Steaks, Ends)

Ground Pork
Maple Breakfast Sausage Bulk (low supply)

Sweet Italian Bulk & Links

Hot Italian Links
Smoked Kielbasa Links

Smoked Cheddar Bratwurst Links

Smoked Chorizo Links
Loin Roast

Butt Roast

Spareribs

Whole fresh bellies
Sweet Sopressata Dry Salami

Chorizo Seco Dry Salami

Finocchiona Dry Salami
Variety Meats (Jowls, Fresh Hocks, Trotters, Liver, Hearts, Leaf Lard, Fatback)
Beef – Sunnycroft Farm:
Lamb – Brookfield Farm
Gelato – Frisky Cow Gelato
Belgian Chocolate

Coffeehouse Chip

Strawberry

Sweet Maple Cream

Vanilla Stracciatella (chocolate chip)​
Eggs – Crooked Creek Hollow Farm
Other –
Lard Soap: made with our own lard
Coming in soon:​​​
Maple Breakfast Sausage Bulk: Early April ETA

Tenderloin: April ETA

Pork Chops: April ETA

Hot Dogs: Late April ETA