Pick up your Meat Share:
When: Friday - Sunday, April 1st - 3rd, 9a - 7p 
Where: Archway Farm, shares will be in the "Pre-Orders" freezer.
If you can't make it during this pick-up window please let us know. 
---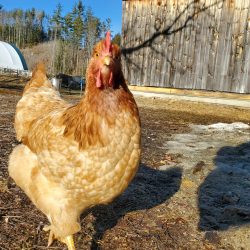 Dear Shareholders:
We are excited to send out our second month of meat shares. We're working through some the logistics of signing up and managing the shares, if you have any questions don't hesitate to reach out.
We have all the shares ready for pick up in our "pre-order" freezer in paper bags with names on them. The freezer is a little more crowded than I anticipated, so we'll be working on a better packaging and delivery system for next month.
We hope you enjoy,
Mark (for Wyatt, Maggie, Dima, Leo, & Alona)
---
Special Items in This Months Shares
(depending on size and what you selected)
Uncured Ham Quarter: From the rear leg (or ham) of the pig, these are brined and smoked. We recommend baking at 325 until the internal temperature reaches at least 145. Depending on the size this typically takes 1-2 hours. (Full and Basic shares)
Chicken Thighs & Drumsticks (aka Leg Quarters): more flavorful than leaner chicken breasts, these benefit from a longer cook (Full shares)
Pork Chops: bone in rib chops, we cut these to be each 1 rib thick. We often sear and the finish in the oven to avoid overcooking. A little pink is ok, USDA recommends cooking to a 145 internal temperature (Full shares)
---
Recipe of the Month
How To Make A Glaze For Ham
from Spend With Pennies
A ham glaze needs a few different parts:
Sweet: The caramelization of the sugars is what adds the sticky exterior we love so much. This can be in the form of brown sugar, honey, jam etc.
Tangy: Orange juice, pineapple juice, cider vinegar, balsamic vinegar all add great flavor!
Spices: Garlic, cloves/cinnamon, mustard, rosemary
Simply stir the ingredients together. While some recipes have you boil/thicken the glaze, I don't find it necessary. You certainly can do that if you'd like a thicker glaze but I find adding a couple of coats of glaze adds just enough without being too thick or sweet.
When Do You Glaze a Ham? About 20-30 minutes before the ham is done (any sooner and you can risk burning the sugars in the glaze). Generously apply the glaze to the outside of the ham with a brush (you can repeat a few times if you'd like more glaze).