We have just recently started carrying local eggs in our farmstand and are still working to figure out the right number to have on hand. We ran out early last week, but have since gotten more in, and hopefully have a better handle on how many we need so that won't happen again.
We took 4 pigs to the butcher in the snow on Tuesday this past week, that means we should have more sweet Italian links back in stock by the end of the month, and a hopefully continuous supply of bacon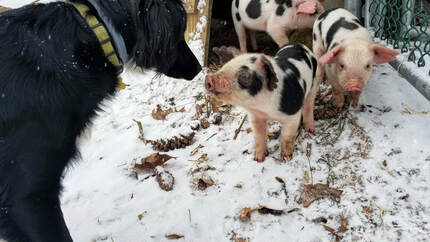 Currently in Stock:
Pork – Archway Farm:
Maple Breakfast Sausage Bulk

Sweet Italian Sausage Bulk

Ground (low supply)
Hot Italian Sausage Links (low supply)

Smoked Kielbasa Links

Smoked Cheddar Bratwurst Links

Smoked Chorizo Links

Hot Dogs
Chops – thick cut bone-in (low supply)

Butt Roast (low supply)

Tenderloin (low supply)
Sweet Sopressata Dry Salami

Chorizo Seco Dry Salami

Finocchiona Dry Salami
Misc (Jowls, Fresh Hocks, Trotters, Hearts, Leaf Lard, Fatback)
Beef – Sunnycroft Farm:
Chicken – Templeton Family Organics:
Lamb – Brookfield Farm
​Eggs – Crooked Creek Hollow Farm
Our of Stock – but expect more:
Sweet Italian Sausage Links: end of January ETA

Spare Ribs: end of January ETA

​Ham: end of February ETA

Chops – boneless: end of February ETA

Loin Roast: end of February ETA
​If there is something you are looking for that is not mentioned let me know, we might be able to get it!