Sunnycroft Farm grass fed ground beef is on sale this week at our farmstand. Buy 5 packages and get 1 free! Now through January 24th. The picture below is me circa 1983 with what is probably an ancestor of the Sunnycroft Farm current herd.
In other news, we are planning a Chinese New Year event at the farm, it is the year of the pig after all. Chinese lanterns, food, farm tours and more on Sunday, February 17th. Stay tuned for more details.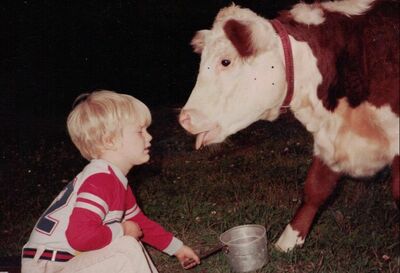 Currently in Stock:
Pork – Archway Farm:
Maple Breakfast Sausage Bulk

Sweet Italian Sausage Bulk

Ground (low supply)
Hot Italian Sausage Links (low supply)

Smoked Kielbasa Links

Smoked Cheddar Bratwurst Links

Smoked Chorizo Links

Hot Dogs
Chops – thick cut bone-in (low supply)

Butt Roast (low supply)

Tenderloin (low supply)

Spareribs (low supply)
Sweet Sopressata Dry Salami

Chorizo Seco Dry Salami

Finocchiona Dry Salami
Variety Meats (Jowls, Fresh Hocks, Trotters, Hearts, Leaf Lard, Fatback)
Beef – Sunnycroft Farm:
Chicken – Templeton Family Organics:
Lamb – Brookfield Farm
​Eggs – Crooked Creek Hollow Farm
Coming in soon:
Sweet Italian Sausage Links: end of January ETA

Chops – bone-in 2″ thick: end of January ETA

Loin Roast: end of January ETA

​

​Ham: end of February ETA

Chops – boneless: end of February ETA
​If there is something you are looking for that is not mentioned let me know, we might be able to get it!